Law Services in Columbia, SC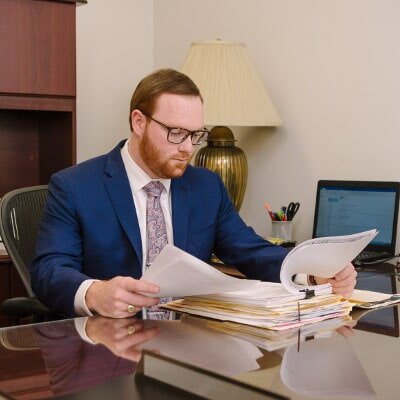 No matter how careful a person is, sometimes injuries can happen due to negligence from other people. An injury can result in dramatic consequences, which is why victims and their families deserve compensation to deal with the effects of an injury. Leip Law is dedicated to protecting victims after an injury. Based in Columbia, SC, we serve the entire state.
Our firm represents victims in a wide variety of personal injury cases, including auto accidents, medical malpractice, defective products, animal attacks, wrongful death, slip-and-fall injuries, and exposure to dangerous chemicals. If this or another personal injury applies to you, contact us for a legal consultation.
Auto accidents can cause physical injuries, disabilities, emotional hardship, and even death. If you want to get compensation from the responsible party and your insurance can't cover the entire costs, let us help. We help clients get compensation after negligent and reckless behavior for all kinds of vehicle accidents, including bus accidents, motorcycle wrecks, and 18-wheeler accidents.
Traveling anywhere in a vehicle is a modern convenience that most people take for granted. Every day, people of all ages drive all over the country. But it is important to remember just how dangerous auto travel can be. The scariest part is that no one is completely removed from the danger of getting in an auto accident at any given moment. Negligence from another driver or a split-second decision turn an ordinary day into a fatal one.
Picking up the pieces after a car crash can be an overwhelming time. That's why it is important to have a personal injury attorney to help you through the aftermath of a car accident. LEIP Law has an experienced team of attorneys that will walk you through every step of this process.
What to do following a car accident
It is important to contact an attorney at LEIP Law after you are involved in an auto accident. But there are certain things you should remember to do and other things that are important to avoid in the wake of an accident. Here are some helpful hints to make sure you get the highest amount of compensation for your accident.
File a police report – This is a key component to winning your case. Contacting the local authorities after an accident is a must, even if it is a minor accident without large-scale damage.
Don't accept any offers – An insurance company is going to try to get out of the situation quickly while paying out as little money as possible. Insurance companies may seem like they are helping you out, but an initial offer is usually just a way of trying to keep you from collecting a lot more compensation. You don't have to accept any offer without talking to a personal injury attorney first.
Take pictures – The more proof you have, the better. Don't hesitate to start snapping as many pictures as you can of the damage. This could be a big help in the future.
No statements to insurance companies – An insurance company will try to get you to make a statement by using a seemingly friendly approach. Don't be fooled by this facade. It is a way to dupe you into incriminating yourself. Don't give them a statement.
The common theme is that you should consult a car accident attorney before agreeing or signing anything. It is the safest move you can make after you are involved in a car accident.
Seeking Professional Medical Attention
Very serious car accidents obviously involve immediate and ongoing medical attention. But that doesn't mean you should avoid seeing a doctor for after an accident you might consider to be minor. There is always a chance you could incur injuries that take a little bit of time to develop. For example, the jolt of an accident could cause severe whiplash or even do damage to your back and neck. It is important to consult a medical professional after your car accident as it could be integral to your case. If you wait too long, you may not be able to prove your injuries were sustained in the accident. And that could completely derail your lawsuit.
There are lots of reasons that lead to a car crash. Some are avoidable while others are not. If you have been injured in a car crash through no fault of your own, it could be for the following reasons:
Driver drowsiness
Weather conditions
Faulty roads and potholes
Tailgating
Driver impairment
Unsafe Lane changes
Speeding
Texting and driving
It is the job of a personal injury attorney to determine the extent of the responsibility for the guilty party. That helps develop the case and determines the approach that will be taken in order to receive compensation. At LEIP Law, we will reconstruct the scene of the accident and contact various experts to bolster your case. What may seem like a simple mistake on the part of the other driver could result in a wealth of compensation on your behalf.
How much is your injury claim worth?
The circumstances involved in each accident will lead to the total amount you can receive in compensation. There is no set amount, as the exact circumstances of each situation will play a significant role. However, the person responsible for the accident will most likely have to pay for a common list of expenses. Many times, insurance companies are the ones who pay out that compensation which applies to the following expenses:
Medical Care and physical therapy
Lost wages as a result of the accident
Long-term disabilities
Personal distress
Lost time in education or social events
In many instances, a greater amount of pain equates to greater compensation. This is usually due to the fact that it takes longer to recover, which means more therapy and rehabilitation. Extended recovery periods from a personal injury often cause medical bills to increase and that could also result in lost wages. Any visible impairments or disfigurement can also balloon the amount of compensation.
Individuals may have a difficult time determining that amount of compensation they should receive because it is more difficult to be subjective. An attorney at LEIP Law will provide you with an objective assessment of your situation. This could lead to a quicker settlement, but it may also result in a longer negotiation. The goal is to get you as much compensation as possible and that can only occur with an objective point of view provided by a injury attorney.
The Legal Process
Every accident is different as there are a lot of personal circumstances that will have to be handled. For example, it is important to determine who is going to be held accountable. Individual drivers may be insured, uninsured or underinsured. That determines the approach that will be taken throughout your claim.
Some drivers are representatives of commercial companies. It's not uncommon for a professional driver to cause an accident. In those instances, the actual company can be held liable for their driver's negligence. That would also influence the way an attorney handles the case.
There are also accidents caused by people driving vehicles that belong to a government agency. When they are at fault, the government agency will have to claim responsibility for the accident and pay out compensation accordingly. Dealing with government agencies is also something best left to an experienced attorney.
The most common part of an auto accident claim is dealing with an insurance company ad should not be done on a personal level. There are many tactics used by insurance companies to get out of paying what they rightfully should to those injured in an accident. Their overall goal is to avoid an expensive payout and that could cause delays and prolong negotiations. And attorney at LEIP Law can help facilitate this process.
Different Types of Car Accident Cases
No two accidents are the same as there are a lot of personal differences in the way these events transpire. Some of the deadliest and injurious type of accidents are head-on collisions which takes place when two vehicles collide with their front ends.
Side-impact collisions are also called broadside collisions and occur when a side of a vehicle is hit by another vehicle. Rollover accidents are often fatal and occur when a car tips over, sometimes rolling. Single car accidents do not typically warrant personal injury claims as it involves just one driver. Meanwhile, multi vehicle accidents can lead to lawsuits as it generally involves a significant amount of damage to a number of cars.
There is no limit to what a certain type of accident will get you in compensation. At LEIP Law, we take into consideration all the factors involved in an accident. We also openly welcome some of the tougher car accident cases as our experience, knowledge and past success allow us to put together formidable approaches to every case. Consulting one of our attorneys is the first step towards receiving compensation as we can get you started on this entire process.
Professional Personal Injury Attorney
When you sustain a personal injury, it is important to find a lawyer that can represent you properly. At LEIP Law, we staff a team of attorneys based on a high quality of values. When you enlist the services of one of our lawyers, you can be sure to get the following:
Professionalism – Our attorneys hold themselves with a high degree of professionalism. That means always being a proud representative of the firm and always displaying the personal integrity it was built upon.
Experience – We have worked on all types of cases with all types of clients. That also helps with the negotiation process as our team is aware of all the tactics insurance companies will use an attempt to negotiate a lower settlement.
Responsiveness – The fact that we are not an enormous Law Firm has tremendous benefits. It means we are always accessible to our clients and able to respond to any personal concerns they might have throughout their case.
Knowledge – We pride ourselves on being extremely well versed in all facets of personal injury law. This comes from an extensive education coupled with experience in the legal profession.
Personal Injury Essentials
It is important to understand that a personal injury defines a broad range illnesses or injuries. Many of these injuries are sustained in a car accident but some can also be sustained in a boat or motorcycle accident. A slip and fall on someone else's property may also be defined as a type of personal injury. Meanwhile, medical professionals who make errors that cause injuries, illnesses or death are also responsible for creating personal injuries among patients. The most important part of understanding the scope of personal injury is that victims are entitled to compensation. However, that compensation does not typically come without an intercessor. LEIP Law can be that intercessor as we have a vast amount of experiences in all types of personal injury cases.
Defective Products
We also provide defective products law services. If an unsafe product has injured you, you need an attorney who will diligently fight for your rights against the negligent manufacturer. We represent clients for cases such as dangerous drugs, seat belt failures, and medical devices that cause emotional or physical harm.
If you need help with any of these or have questions about how defective products law might apply to you, contact our team today.
Legal Professionals
We will aggressively fight for your rights if you've been injured by no fault of your own. Our attorneys will examine your claim, gather evidence, and determine what you should receive as compensation for what you experienced. We will serve you with diligence and compassion so you can receive everything that is rightfully yours after an accident.
To schedule your initial legal consultation, call (803) 205-2664, email teresa@leiplaw.com, or fill out our contact form.